Jacques Bardelot Champagne Brut Rosé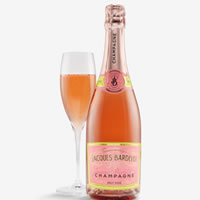 Jacques Bardelot Champagne Brut Rosé
Country- France
State- Champagne
Brand- Les Roches Blanches
Type- Champagne
Varietal- Pink Wine
Price- $$$
Average Wine Rating- 3
Description:
Jacques Bardelot Champagne Brut Rosé uses 10% Pinot Noir grapes which gives the Champagne a great color of soft red summer fruits.
About the Winery
Les Roches Blanches was founded in 1994 by Nicolas Gueusquin in Dizy, France. Les Roches Blanches is a négociant so they do not grow their own grapes, but they source or the juice from other cultivators in the region. The winery matures their Champagnes in chalk cellars.
Tobin's Review 3 out of 5
Jacques Bardelot's Champagne Brut Rosé has a nice light pink hay hue. The wine is acidic with aromas of strawberry on the nose. The Champaign has flavors of light cherry, but is also a little vinegary tasting. Overall it's a good Champagne.
Have you had this wine? Comment below and share your thoughts on this Champagne!