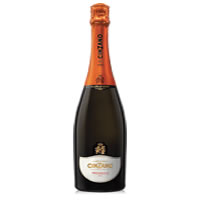 Cinzano Prosecco
Country- Italy
Brand- Cinzano
Type- Prosecco
Varietal- White Wine
Price- $$$
Average Wine Rating- 4
Description:
Cinzano Prosecco appears straw yellow with aromas that are fruity, slightly herbaceous, with green apple and pear notes. The wine is fresh and mild with flavors of apple and pear.
About the Winery
In 1757, Giovanni and Carlo Cinzano founded Cinzano in Turin, Italy. The company originally produced and sold aromatized wines. In 1840 they would begin to produce sparkling wines. In 1999, Cinzano would be purchased by Gruppo Campari. While they do produce wines, they are best known for their vermouths.
Tobin's Review 4 out of 5
Cinzano Prosecco has a light hay color and a sweet aroma. The Prosecco has active bubbles with flavors of melon and citrus. The wine is a little tart, but has a nice balance of sweetness as well. It's a good Prosecco that I definitely enjoyed!
Have you had this wine? Comment below and share your thoughts on Cinzano's Prosecco!