Blackstone Winery Merlot 2006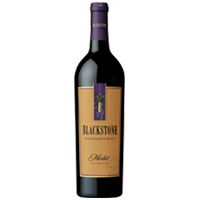 Blackstone Winery Merlot 2006
Country- USA
State- Woodbridge, California
Brand- Blackstone Winery
Vintage- 2006
Type- Merlot
Varietal- Red Wine
Price- $
Average Wine Rating- 3
Description:
Blackstone Winery's 2006 Merlot is produced in Woodbridge, California. The wine is comprised of red fruits, surrounded by elegant creaminess, supple oak and firm tannins that make this merlot flavorful and well-balanced.
Tobin's Review 3.5 out of 5
BV's Cabernet is not an oaky cabernet, but you can definitely taste the oak flavor. I could really taste the vanilla, which made it a refreshing cabernet that is smooth and very drinkable.
Jeanine's Review 3 out of 5
Blackstone's Merlot has a fruity nose with hints of oak. It is very smooth and a drinkable merlot.
Have you had this wine? Comment below and share your thoughts on Blackstone Winery Merlot 2006!