Bernard Remy Carte Blanche Champagne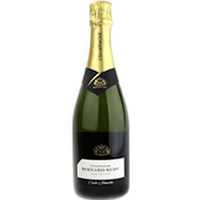 Bernard Remy Carte Blanche Champagne
Country- France
State- Champagne
Brand- Bernard Remy
Type- Champagne
Varietal- White Wine
Price- $$$
Average Wine Rating- 4
Description:
Bernard Remy Carte Blanche Champagne has a nice golden coloring with bubbles that are lively and intense. The Champagne has light aromas of lime, honey and lemon with fresh notes and mint on the palate. The wine is comprised of 60% Pinot Noir, 35% Chardonnay and 5% Meunier grapes.
About the Winery
Bernard Remy bought his first vines in 1968, and he produced his first wine a few years later. In 1983, the Bernard Remy winery was born, as Bernard decided to build his own cellar to produce his fine wines. In 1996, his son Rudy began to work at the winery and took over the reins in 2008. The Bernard Remy winery is located in Allemant, France and still produces fine Champagnes today.
Tobin's Review 4 out of 5
Bernard Remy Carte Blanche has a light straw hue with nice active bubbles. The Champagne has light apple aromas and a slightly sweet, mildly acidic and creamy finish. This is a delicious Champagne that is a great buy for the price!
Have you had this wine? Comment below and share your thoughts on Bernard Remy Carte Blanche!