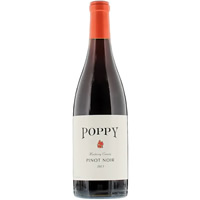 Poppy Pinot Noir 2017
Country- USA
State- King City, CA
Brand- Poppy
Vintage- 2017
Type- Pinot Noir
Varietal- Red Wine
Price- $$
Average Wine Rating- 3
Description:
Poppy Pinot Noir 2017 has a deep red color with aromas of raspberry, spice and French toasted oak. The wine is soft and silky with a hint of acidity on the finish.
About the Winery
Poppy was founded in 2003 by the Silva family in Monterey County. The Silva family farms five vineyards including Poppy Hillside Vineyard in the Santa Lucia Highlands Silva Family Vineyard, Beeswax Vineyard in Arroyo Seco, Bella Vita Vineyard in Arroyo Seco and Evelina Marie Estate Vineyard in Santa Lucia Highlands.
Tobin's Review 3 out of 5
This Pinot Noir has a deep red cherry hue with aromas of light cherry and vanilla. The wine is soft on the tongue, and I pick up notes of light tart cherry with a hint of oak on the palate. It's smooth and a great every day drinking wine (big on flavor, smooth and the price is right!)
Have you had this wine? Comment below and share your thoughts on this Pinot Noir!