Beringer Main and Vine Pinot Grigio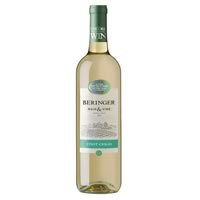 Beringer Main and Vine Pinot Grigio
Country- USA
State- Sonoma, CA
Brand- Beringer Vineyards
Type- Pinot Grigio
Varietal- White Wine
Price- $
Average Wine Rating- 2
Description:
Beringer's Main and Vine Pinot Grigio has a refreshing bite of juicy white peach and citrus, which finishes with a flinty minerality.
About the Winery
Beringer's founder Jacob Beringer sailed from Mainz, Germany to New York in 1868. He would later head west and become the cellar foreman for Charles Krug in 1869. It wasn't until 1875 when he and his brother Frederick would purchase 215 acres of land in the Napa Valley. In 1876 Beringer wines was born, with Jacob producing 18,000 cases of wine in their first year. In 1915 Jacob would pass away and his children Charles and Bertha would take over. Currently Mark Beringer is the Chief Winemaker (Jacob's great, great grandson.)
Tobin's Review 2 out of 5
Beringer Main and Vine Pinot Grigio has a very clear hue. I picked up clean notes of citrus on the nose. The wine has flavors of tart pineapple, a little lemon and a hint of peach. Overall it is a cheap white wine, and it tastes cheap. I would not want to buy this wine again.
Have you had this wine? Comment below and share your thoughts on Beringer Main and Vine Pinot Grigio!