Main and Geary Pinot Noir 2016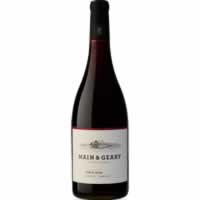 Main and Geary Pinot Noir 2016
Country- USA
State- Graton, CA
Brand- Main & Geary Vintners
Type- Pinot Noir
Varietal- Red Wine
Price- $$$
Average Wine Rating- 3
Description:
Main and Geary Pinot Noir is a dynamic and well-balanced wine displaying opulent fruit with jammy flavors of boysenberries, raspberries and cherries.
About the Winery
Main and Geary Vintners is located in Graton, California (in Sonoma County). Main & Geary pays homage to the small wineries of the early 20th century where wine, olives and other products were produced and sold on the estate. Main & Geary's main goals are to produce hand crafted wines from California's best growing regions.
Tobin's Review 3 out of 5
Main and Geary Pinot Noir has a light plum hue. The nose is acidic, jammy and has a hint of cherry. I pick up notes of cherry on the tongue followed by a little acidity and blackberries on the finish.
Have you had this wine? Comment below and share your thoughts on Main & Geary Pinot Noir 2016!