Patricia Green Cellars Notorious Pinot Noir 2015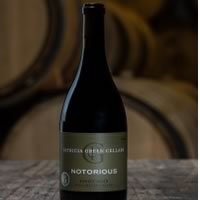 Patricia Green Cellars Notorious Pinot Noir 2015
Country- USA
State- Newberg, OR
Brand- Patricia Green Cellars
Type- Pinot Noir
Varietal- Red Wine
Price- $$$$
Average Wine Rating- 4
Description:
The 2015 Notorious Pinot Noir is produced in Oregon's Willamette Valley. The Notorious Pinot Noir is comprised of a selection of the best wines from the top vineyards and is made in a particular style designed to enhance aromatics, richness, density and structure. The wines are aged in 100% new French oak barrels.
About the Winery
Patricia Green Cellars is located in the Ribbon Ridge Appellation of the Willamette Valley, which was purchased in 2000 by Patty Green and Jim Anderson. The winery is known for producing a tremendously broad selection of vineyard designated Pinot Noirs from several vineyards representing some of the better sites in the Willamette Valley with a particular emphasis over the years on Ribbon Ridge, Dundee Hills and the Chehalem Mountain appellations.
Tobin's Review 4 out of 5
The 2015 Notorious Pinot Noir has a rich dark hue compared to other Pinot Noirs. The nose is full of fruit notes and I pick up a lot of cherry. The first sip is soft on the tongue with good flavor. It's not a super sweet cherry, but a nice balance of fruit with a slight acidity. Overall this is a very good wine.
Have you had this wine? Comment below and share your thoughts on Patricia Green Cellars Notorious Pinot Noir 2015!