Warre's Otima 20 Year Old Tawny Port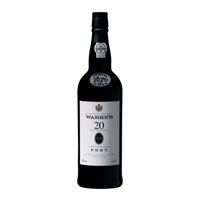 Warre's Otima 20 Year Old Tawny Port
Country- Portugal
Brand- Symington Family Estates/ Warre's
Age-20-years
Type- Port
Price-$$$$
Average Wine Rating-4
Description:
Warre's Otima 20 Year Old Tawny Port has a rich tawny color, delicious soft raisiny fruit, nutty bouquet, superb balance and a long lingering finish.
About the Winery:
Andrew James Symington 'AJ' arrived in Portugal in 1882. In 1905 AJ became a partner in Warre's Port. The Symington family would later become sole owners of Dow's and Warre's in 1961. Symington Family Estates own and run Graham's, Warre's, Dow's and Cockburn's port houses as well as Douro wines which consists of Quinta do Vesuvio, Quinta do Ataíde, Altano, and Prats & Symington (a widely acclaimed joint venture that produces Chryseia and Post Scriptum). They also recently launched Quinta da Fonte Souto, in the Alto Alentejo sub-region of Portalegre. The company also has 26 Quintas in the Douro Valley.
Tobin's Review- 4 out of 5
Warre's 20 Year Old Tawny Port has a tea coloring with molasses aromas. The port is sweet but soft at the end. It's a good port that is not overly sweeet with a hint of wheat at the end.
Have you had this wine? Comment below and share your thoughts on the Warre's 20 Year Old Tawny Port!