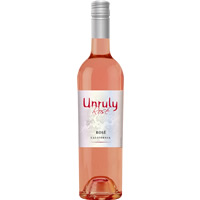 Unruly Rosé 2017
Country- USA
Brand- Unruly
Vintage- 2017
Type- Rosé
Varietal- Pink Wine
Price- $$
Average Wine Rating- 3
Description:
Unruly Rosé 2017 has aromas of fresh raspberries with floral notes of white flowers. Flavors explode with strawberries and ripe watermelon with a finish of citrus zest.
Tobin's Review 3 out of 5
This is a soft clean Rosé. The wine has aromas and flavors of strawberry. It's a good drinkable wine.
Jeanine's Review 4 out of 5
The wine is very good. It's not a heavy Rosé but nice and light with aromas and flavors of strawberry.
Have you had this wine? Comment below and share your thoughts on Unruly Rosé 2017!