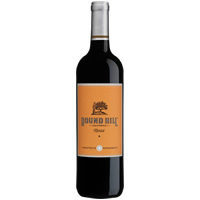 Round Hill Merlot 2015
Country- USA
State- St. Helena, CA
Brand- Round Hill
Vintage- 2015
Type- Merlot
Varietal- Red Wine
Price- $$
Average Wine Rating- 3
Description:
Round Hill Merlot 2015 has flavors of ripe strawberry, cranberry, vanilla and dark chocolate. The wine is soft with an elegant mouthfeel with refined silky tannins and a smooth finish.
Tobin's Review 3 out of 5
This wine has a dark jammy color. The wine has a fruity nose that bursts with scents of plum, cherry and blackberry. The wines flavors consist of plum and blackberry with a smooth vanilla plum finish.
Have you had this wine? Comment below and share your thoughts on Round Hill Merlot 2015!