Taylor Fladgate 40 Year Tawny Port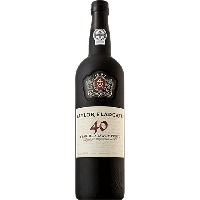 Taylor Fladgate 40 Year Tawny Port
Country- Portugal
Brand- Taylor Fladgate Port House
Age-40-years
Type- Port
Price-$$$$
Average Wine Rating-4.5
Description:
Taylor Fladgate 40 Year Tawny Port has aromas and flavors of vanilla crème, decadent toffee and persistent dried raisins.
About the Winery:
Taylor Fladgate was established in 1692 and is one of the oldest of the founding Port houses. They are dedicated solely to the production of Port wine. The company is based in Oporto in the Douro Valley and has remained an independent company, excelling in the production of fine Ports.
Tobin's Review- 4.5 out of 5
Taylor Fladgate's 40 Year Tawny Port has nice maple aromas with maple sugar and a slight citrus flavors. This port is very smooth and well-balanced. If you like Port, this one is delicious!
Have you had this wine? Comment below and share your thoughts on the Taylor Fladgate's 40 Year Tawny Port!