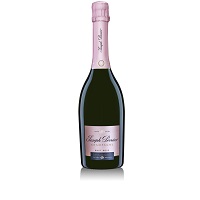 Joseph Perrier Brut Rosé
Country- France
State- Champagne
Brand- Joseph Perrier
Type- Champagne
Varietal- Pink Wine
Price- $$$$
Average Wine Rating- 4.5
Description:
Joseph Perrier Brut Rosé is an elegant Rosé that exhibits fresh strawberry flavors, crisp acidity and a lovely balance. The Champagne is comprised of 75% Pinot Noir and 25% Chardonnay grapes.
About the Winery
In 1825 Joseph Perrier established the Champagne House which bears his name in Chalons-en-Champagne. Perrier supplied Queen Victoria and King Edward VII his Champagnes, hence earning the name Cuvee Royale.
Since that time the House has remained proudly traditional, building on historical success, managed by the same family over 5-generations. This continuity results in great 'savoir-faire' and underpins a guarantee of quality.
Tobin's Review 4.5 out of 5
Joseph Perrier's Brut Rosé has a pink salmon hue with a clean aroma. The Champagne has a rich creamy mouth with raspberry and strawberry flavors that ends crisp. This is a really good Champagne, it was close to perfection!
Have you had this wine? Comment below and share your thoughts on this Champagne!