Talbott Kali Hart Pinot Noir 2016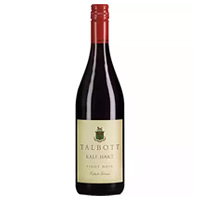 Talbott Kali Hart Pinot Noir 2016
Country- USA
State- Salinas, CA
Brand- Talbott Vineyards
Vintage- 2016
Type– Pinot Noir
Varietal- Red Wine
Price- $$
Average Wine Rating- 3
Description:
Talbott Kali Hart Pinot Noir 2016 has aromas of crushed cranberry, plum and red currant. The palate bursts with rich red fruit compote where the wine is accentuated by soft silky tannins and a long luscious finish.
About the Winery
In 1982, Robb Talbott and his father Robert Talbott, Sr. launched Talbott Vineyards in the Carmel Valley in California. Seven years later they would open their tasting room in Carmel-by-the-Sea. In 1994 the Talbott family acquired the Sleepy Hollow Vineyard and became an all-estate winery. The winery has been producing quality wines since inception and even received a rare 100-point score in Wine Spectator for their 1990 Sleepy Hollow Chardonnay!
Tobin's Review 3 out of 5
Talbott's Kali Hart Pinot Noir 2016 has a dark plum hue with a nice fruity nose with a hint of tartness. The wine is very soft on the palate with smooth cherry flavors.
Have you had this wine? Comment below and share your thoughts on Talbott's Kali Hart Pinot Noir 2016!