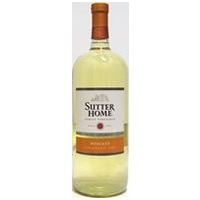 Sutter Home Moscato 2008
Country- USA
State- Napa, California
Brand- Sutter Home
Vintage- 2008
Type- Moscato
Varietal- White Wine
Price- $
Average Wine Rating- 3
Description:
Sutter Home's 2008 Moscato is produced in Napa, California. The wine has aromas of white peaches, rose and lichee with a good balance of acidity. It has flavors of sweet and creamy peach as well as honeydew melon.
Tobin's Review 3 out of 5
Sutter Home's 2008 Moscato was melony and sweet. It wasn't a bad wine, but was a little too sweet for me.
Jeanine's Review 2 out of 5 
I found Sutter Home's 2008 Moscato to be light and sweet. It was fruity and I could taste pear. This wine is difficult to pair with food because of it's sweetness.
Have you had this wine? Comment below and share your thoughts on Sutter Home Moscato 2008!