Samuel Robert Pinot Noir Rosé 2020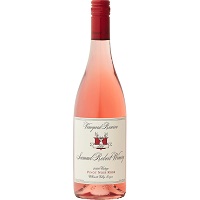 Samuel Robert Pinot Noir Rosé 2020
Country- USA
State- Oregon
Brand- Samuel Robert Winery
Type- Rosé
Vintage- 2020
Varietal- Pink Wine
Price- $$
Average Wine Rating- 4.5
Description:
Samuel Robert Pinot Noir Rosé 2020 is a medium-bodied wine with strawberry, red plum and watermelon flavors.
About the Winery
In 2011, Samuel and Bryn Coelho founded the Samuel Robert Winery in Oregon's Willamette Valley. The winery originally started out as a négociant wine company, but in 2014 they purchased their own vineyard site to meet their growing demand. In 2017 they shifted their focus exclusively to the development of their winery as well as their two vineyard properties (Perrydale Hills Vineyard and Lucky Rooster Vineyard.) The winery showcases the Pinot Noir grape and features as a Rosé as well as red Pinot Noir wines.
Tobin's Review 4.5 out of 5
Samuel Robert's Pinot Noir Rosé 2020 has a light cranberry hue with hay, strawberry and cherry aromas. The wine opens with soft berry flavors, in particular cherry and strawberry. It starts out slightly sweet, but finishes slightly dry. Overall this is a well-balanced wine that is definitely worth trying!!
Have you had this wine? Comment below and share your thoughts on Samuel Robert's Pinot Noir Rosé 2020!