Ruffino Riserva Ducale Chianti Classico 2019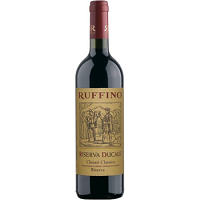 Ruffino Riserva Ducale Chianti Classico 2019
Country- Italy
Region- Umbria
Brand- Ruffino
Vintage- 2019
Type- Chianti
Varietal- Red Wine
Price- $$$
Average Wine Rating- 3.5
Description:
Ruffino Riserva Ducale Chianti Classico 2019 is bright with violet and cherry notes. The wine is aged for 2-years which results in an elegant and balanced wine.
About the Winery
Ruffino Winery was founded in 1877 by Ilario and Leopoldo Ruffino. The winery quickly received accolades by being awarded a Gold medal in 1881 for its Chianti. In 1942 Ruffino purchased its first Tuscan estate- Villa di Montemasso. By 1960 Ruffino's wine was already being exported to more than 100 countries. While Ruffino has received most of their recognition for their Chiantis, they also produce some fine sparkling and white wines.
Tobin's Review 3.5 out of 5
Ruffino's Riserva Ducale Chianti Classico 2019 has a plum hue with aromas of red fruit, blackberry, jam and deep earth aromas. The wine is soft, round and pops with flavors of blackberry, raspberry, slight stone and dry earth flavors. Overall, this is a very approachable wine as it's not overly dry and easy to drink!
Have you had this wine? Comment below and share your thoughts on this Chianti!