Ruffino Lumina Pinot Grigio 2017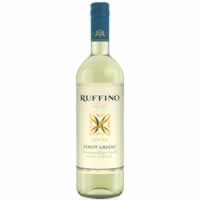 Ruffino Lumina Pinot Grigio 2017
Country- Italy
Brand- Ruffino
Vintage- 2017
Type- Pinot Grigio
Varietal- White Wine
Price- $$
Average Wine Rating- 3
Description:
Lumina means "Illumination of the Moon" and is produced from Pinot Grigio grapes grown in the beautiful northeastern region of Italy. This well-balanced wine reveals delicious notes of pears and citrus fruit, and delivers a fragrant fruity finish.
About the Winery
Ruffino Winery was founded in 1877 by Ilario and Leopoldo Ruffino. The winery quickly received accolades by being awarded a Gold medal in 1881 for its Chianti. In 1942 Ruffino purchased its first Tuscan estate- Villa di Montemasso. By 1960 Ruffino's wine was already being exported to more than 100 countries. While Ruffino has received most of their recognition for their Chiantis, they also produce some fine sparkling and white wines.
Tobin's Review 3 out of 5
Ruffino Pinot Grigio 2017 has a very light complexion. The wine has aromas of pear with flavors of pear and citrus. The wine is soft with subtle acidity, overall it's a good Pinot Grigio.
Have you had this wine? Comment below and share your thoughts on Ruffino Lumina Pinot Grigio 2017!