Perrier Jouet Champagne Brut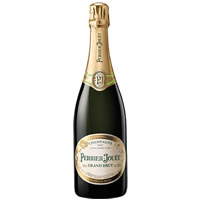 Perrier Jouet Champagne Brut
Country- France
State- Champagne
Brand- Perrier Jouet
Type- Champagne
Varietal- White Wine
Price- $$$$
Average Wine Rating- 4
Description:
Perrier Jouet Champagne Brut is lacy in texture with a firm acidity. The Champagne pops with flavors of poached quince, toast and pickled ginger.
About the Winery
Perrier-Jouët was founded in 1811 by Pierre-Nicolas and Rose Adelaide Jouët. Perrier Jouet owns 266 acres of vineyards and produces approximately 3-million bottles of Champagne/ year. The house is currently under the Pernod Ricard umbrella of brands.
Tobin's Review 4 out of 5
The Champagne has a nice clear hue. The Champagne has minimal bubbles, but has a nice crisp fruit taste and finish.
Have you had this wine? Comment below and share your thoughts on Perrier Jouet Champagne Brut!