Domain du Moulin Gaillac 2016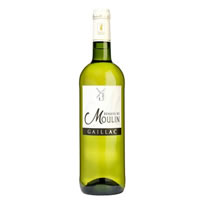 Domain du Moulin Gaillac 2016
Country- France
State- Gaillac
Brand- Domain du Moulin
Type- White Table Wine
Varietal- White Wine
Price- $$
Average Wine Rating- 3
Description:
Domain du Moulin Gaillac 2016 is a mix of Ondene (60%) and Sauvignon (40%) grapes. The Ondene grape is a very old local grape that produces richness and roundness. The wine has fresh fruit and is dry.
About the Winery
Domain du Moulin was founded in 1827 by Pierre Hirissou. The winery is a six generation family estate located on the right side of the Tarn river in Southeast France. The winery has 49 acres of limestone terroir and is currently run by Nicolas Hirissou.
Tobin's Review- 3 out of 5
Domain du Moulin Gaillac 2016 has clear hay hue. The aroma is vibrant with citrus and grassy meadow notes. The wine is soft on the tongue with a slight twinge of acidity. The flavors come through as apricot and the wine is crisp and dry.
Have you had this wine? Comment below and share your thoughts on Domain du Moulin Gaillac 2016!