Parkers Estate Syrah 2007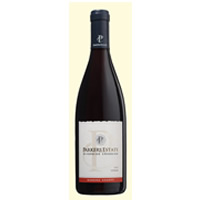 Parkers Estate Syrah 2007
Country- USA
State- Graton, California (Sonoma)
Brand- Parkers Estate
Vintage- 2007
Type- Syrah
Varietal- Red Wine
Price- $$
Average Wine Rating- 3
Description:
Parkers Estate 2007 Syrah has aromas of sweet, dark plums, oak and spicy clove provided by subtle smokiness. Silky flavors of black fruit and currant are supported by a firm spicy core.
Tobin's Review 3.5 out of 5
This Syrah has plum overtones with a spiced finish. It is a full bodied wine and would be the perfect accompaniment to a filet mignon!
Jeanine's Review 3 out of 5
I can taste plum in this wine. It is a very smooth red wine and would be good with a nice red meat (roast of filet- because it is very smooth.)
Have you had this wine? Comment below and share your thoughts on Parkers Estate Syrah 2007!