Nicolas Feuillatte Reserve Exclusive Brut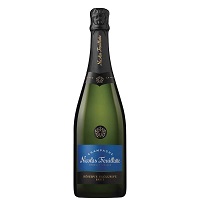 Nicolas Feuillatte Reserve Exclusive Brut
Country- France
State- Champagne
Brand- Nicolas Feuillatte
Type- Champagne
Varietal- White Wine
Price- $$$
Average Wine Rating- 4
Description:
Nicolas Feuillatte Reserve Exclusive Brut has aromas of juicy pear and apricot. This Champagne has a fresh opening, is smooth, pleasant and well-balanced.
About the Winery
Nicolas Feuillatte was born in Paris in 1926. He would later move to New York where he would become America's leading importer of African coffee. He became a successful entrepreneur and he and his brother Serge would buy a 12-hectare vineyard, Domaine de Saint-Nicholas, in Boulese. They would sell their harvest to negociants, but in 1976 they decided to create their own brand. In 1986 Nicolas Feuillatte was purchased by Centre Vinicole de la Champagne. Nicolas would pass away in 2014, but the brand continues to flourish to this day!
Tobin's Review 4 out of 5
Nicolas Feuillatte's Reserve Exclusive Brut has hints of apple, and is crisp with a nice subtle creaminess. Overall this Champagne is a great value and is very well-balanced!
Have you had this wine? Comment below and share your thoughts on this Champagne!