Mezzacorona Pinot Grigio 2020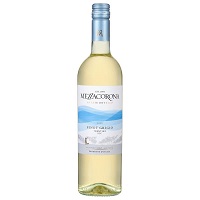 Mezzacorona Pinot Grigio 2020
Country- Italy
Region- Trentino
Brand- Mezzacorona Winery
Type- Pinot Grigio
Varietal- White Wine
Price- $
Average Wine Rating- 4
Description:
Mezzacorona Pinot Grigio 2020 has bright aromas of white peach and honeysuckle, complimented by a juicy palate of pear and nectarine. The wine is crisp and has a mineral finish.
About the Winery
The Mezzacorona Winery is located in the Trentino region of Italy, at the foot of the Dolomites. Their vineyards have pergola trellising, which is fed from Lake Garda.
Tobin's Review 4 out of 5
Mezzacorona's Pinot Grigio 2020 has a light honey hue with sweet melon aromas. The wine opens with a nice citrus and a semi-sweet honey dew. Overall it's a really good cheap wine!
Have you had this wine? Comment below and share your thoughts on this Pinot Grigio!