Melville Pinot Noir Santa Rita Estate 2016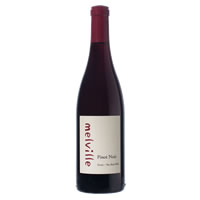 Melville Pinot Noir Santa Rita Estate 2016
Country- USA
State- Lompoc, CA
Brand- Melville Winery
Vintage- 2016
Type– Pinot Noir
Varietal- Red Wine
Price- $$$
Average Wine Rating- 4
Description:
Melville Pinot Noir Santa Rita Estate 2016 has a medium-ruby coloring. The wine pops with aromas of tangerine peel, ripe red cherries, spiced cranberries and rhubarb. The wine has flavors of raspberry and spice.
About the Winery
In 1996, Ron Melville founded the Melville Winery in California's Santa Ynez Valley. Ron's desire was to find a region where he could grow cold climate grapes (Pinot Noir, Chardonnay and Syrah) which is why he selected Sta. Rita Hills. Melville has become a favorite and Ron works with his son Chad who has producing quality wine ever since!
Tobin's Review 4 out of 5
Melville Pinot Noir Sta. Rita Estate 2016 has a deep plum hue with strong notes of dark cherry, sweet tobacco and grass on the nose. I pick up flavors of cherry with vanilla notes. It's smooth, not very complex but bursts with ripe red fruit at the end. This is one of wife's favorites!
Have you had this wine? Comment below and share your thoughts on Melville's Pinot Noir Sta. Rita Estate 2016!