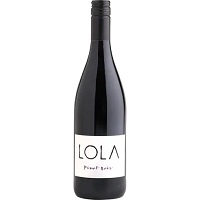 LOLA Pinot Noir 2020
Country- USA
State- Calistoga, CA
Brand- LOLA
Type- Pinot Noir
Varietal- Red Wine
Price- $$$
Average Wine Rating- 4
Description:
LOLA Pinot Noir 2020 has a bright garnet hue with aromas of cola, blackberries, cherries and vanilla notes.
About the Winery:
In 2008, Seth Cripe founded LOLA Wine in California's Napa Valley. The winery is a boutique winery which focuses on creating high quality, approachable and affordable wines. They have small vineyards throughout the valley and also a tasting room at the LOLA House in Calistoga, CA.
Tobin's Review 4 out of 5
LOLA's Pinot Noir 2020 has a nice light ruby hue with aromas of fresh cherry, vanilla and dark rich red fruits. The wine is soft with nice depth, and I pick up flavors of currant, cherry and vanilla. This is a very solid wine!
Have you had this wine? Comment below and share your thoughts on this Pinot Noir!