Line 39 Petite Syrah 2008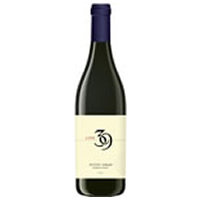 Line 39 Petite Syrah 2008
Country- USA
State- St. Helena, California
Brand- Line 39 Petite Syrah 2008
Vintage- 2008
Type- Petite Syrah
Varietal- Red Wine
Price- $
Average Wine Rating- 3
Description:
Line 39 Petite Syrah 2008 from St. Helena, CA has a zesty mix of cherries and tannins. The wine is enhanced by a trace of oak and tobacco.
Tobin's Review 3 out of 5
Line 39 Petite Syrah has hints of cherry on the nose, but it is not an overly fruity aroma as it is mixed with tobacco, herb or muttled mint. The taste has is fruity with hints of oak on the palate.
Jeanine's Review 3 out of 5
I found Line 39 Petite Syrah to be a fruity, medium-bodied wine with hints of oaky (which were not overpowering.) I didn't taste the tobacco, and this wasn't really a light wine. I think it would pair well with a steak.
Have you had this wine? Comment below and share your thoughts on Line 39 Petite Syrah 2008!