Lazy Creek Vineyards Pinot Noir 2007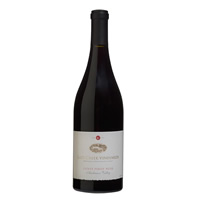 Lazy Creek Vineyards Pinot Noir 2007
Country- USA
State- Philo, California
Brand- Lazy Creek
Vintage- 2007
Type- Pinot Noir
Varietal- Red Wine
Price- $$$
Average Wine Rating- 3
Description:
Lazy Creek Vineyards Pinot Noir 2007 has aromas of spice, cola, plum blossom, black fruit, floral notes and graphite. The palate is rich and juicy with generous dark plum, acai and blueberry pie with cinnamon, clove and toast lingering on the finish.
About the Winery
Lazy Creek Vineyards is named after the Lazy Creek and is the second oldest vineyard in the valley. The Vineyard dates back to the early 1900's when the Pinolis' came from Italy to farm plum orchards and vineyards. In 1969 the vineyard was sold to Hans and Theresia Kobler who were natives of Switzerland. Hans and Theresa converted the old barn to a winery and Hans planted Pinot Noir, Gewürztraminer and Chardonnay vines that he brought by suitcase from Europe. Hans sold the winery in 1998 and now days the winery is operated by Don and Rhonda Carano.
Tobin's Review 3.5 out of 5
Lazy Creek Vineyards Pinot Noir 2007 has an acidic nose, but it is a light wine with a decent body. It is not a typical Pinot Noir but has a nice complexity.
Jeanine's Review 3 out of 5
Lazy Creek Vineyards Pinot Noir 2007 is a fruity wine and I taste cherry. It's not as creamy or smooth as some of the other Pinot Noirs that I tend to enjoy. It's nice and light but is missing that silkiness.
Have you had this wine? Comment below and share your thoughts on Lazy Creek Vineyards Pinot Noir 2007!