Kirkland Signature Asolo Prosecco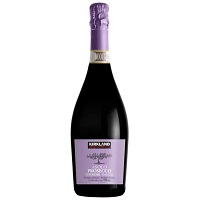 Kirkland Signature Asolo Prosecco
Country- Italy
Region- Veneto
Brand- Kirkland
Type- Prosecco
Varietal- White Wine
Price- $
Average Wine Rating- 2.5
Description:
Kirkland Signature Asolo Prosecco is an extra dry sparkling wine that is produced for Costco under the Kirkland Signature brand. The wine is produced in Italy and shipped to the US under the Kirkland label.
Tobin's Review 2.5 out of 5
Kirkland Asolo Prosecco has a very light hue with a slightly sweet aroma. The wine is kind of sweet without much substance. Overall, it's not very good!
Have you had this wine? Comment below and share your thoughts on this Prosecco!