Joleté Pinot Noir Le Verre Cuvée 2020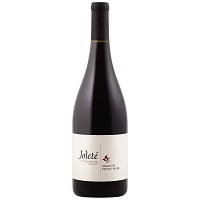 Joleté Pinot Noir Le Verre Cuvée 2020
Country- USA
State- Newberg, Oregon
Brand- Joleté Wines
Type- Pinot Noir
Varietal- Red Wine
Price- $$$
Average Wine Rating- 3
Description:
Joleté Pinot Noir Le Verre Cuvée 2020 has aromas of spiced raspberry and sweet tobacco that leads to a medium-bodied palate with subtle notes of cherry, cranberry and ripe Oregon Hood strawberry. An underlying hint of orange peel brings a crisp drive of acidity to the finish.
Tobin's Review 3 out of 5
Joleté's Pinot Noir Le Verre Cuvée 2020 has a dark purple hue with nice plum cherry aromas. The wine is soft and velvety with a bit of chocolate and vanilla which finishes with a little dry toffee.
Have you had this wine? Comment below and share your thoughts on this Pinot Noir!