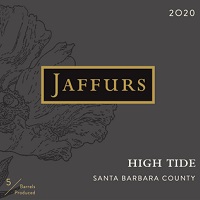 Jaffurs High Tide 2020
Country- USA
State- Santa Barbara, CA
Brand- Jaffurs
Vintage- 2020
Type- Red Blend
Varietal- Red Wine
Price- $$$$
Average Wine Rating- 3.5
Description:
Jaffurs High Tide 2020 is a Rhone-style blend wine made by Jaffurs Wine Cellars in Santa Barbara, California. It is a blend of 60% Mourvèdre, 20% Grenache, and 20% Syrah.
Color: Deep ruby
Aroma: Dark fruits, spices, earth
Palate: Full-bodied, dark fruit, spice, minerality
Tannins: Well-integrated
Acidity: Balanced
Finish: Long
About the Winery
Jaffurs Wine Cellars is a winery in Santa Barbara, California that specializes in Rhône-style wines. The winery was founded in 1994 by Craig Jaffurs, who is known for his pioneering work in the Santa Barbara wine industry. Jaffurs wines are made from grapes grown in some of the best vineyards in the region, including Ballard Canyon, Santa Rita Hills, and Los Alamos. The wines are handcrafted in small batches and are known for their balance, complexity, and aging potential.
Tobin's Review 3.5 out of 5
Jaffurs High Tide 2020 has a dark blueberry hue with a very fruity aroma of red berries. The wine is smooth, relatively light and has slight blackberry, cherry and plum flavors. The wine ends slightly dry, but is well balanced with a hint of licorice and gravel. Overall, it's a nice easy to drink red blend!
Have you had this wine? Comment below and share your thoughts on this blended wine!