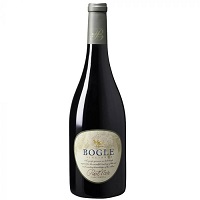 Bogle Pinot Noir 2020
Country- USA
State- Clarksville, CA
Brand- Bogle Vineyards
Type- Pinot Noir
Varietal- Red Wine
Price- $
Average Wine Rating- 3
Description:
Bogle Pinot Noir 2020 in a bright wine with cherry notes, floral aromatic notes and an elegant finish.
About the Winery:
In 1968 Warren Bogle and his son Chris planted 20-acres of wine grapes on their ranch in Clarksville, CA. Warren sold grapes to other wineries until he released his own label, Bogle Vineyards, in 1978. In 1979 the family constructed the original winery which still stands today. The winery remains family owned and continues to produce quality California wines.
Tobin's Review 4 out of 5
Bogle's Pinot Noir 2020 has a dark purple hue with aromas of light cedar and plum. The wine is soft with dark fruit flavors. I pick up hints of cherry and slate with a little leather for a balanced flavor. It's not bad for an inexpensive wine.
Have you had this wine? Comment below and share your thoughts on this Pinot Noir!