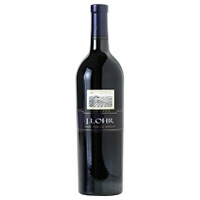 J Lohr Merlot 2007
Country- USA
State- Paso Robles, California
Brand- J. Lohr
Vintage- 2007
Type- Merlot
Varietal- Red Wine
Price- $$
Average Wine Rating- 3
Description:
J Lohr Merlot 2007 has aromas of raspberry, red currant and blackberry. Flavors are rich and concentrated with substantial yet velvety tannins.
Tobin's Review 3 out of 5
J. Lohr Merlot 2007 is a dark colored wine with a blackberry nose. I taste blackberries in the wine. Overall the wine is smooth and light.
Jeanine's Revie 3 out of 5
J. Lohr Merlot 2007 has a nice aroma, as it's fruity. The taste is both blackberry with a hint of raspberry. It's good.
Have you had this wine? Comment below and share your thoughts on J. Lohr Merlot 2007!