Henderson Trail Pinot Noir 2018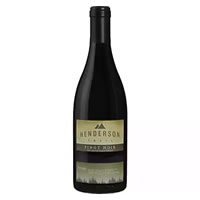 Henderson Trail Pinot Noir 2018
Country- USA
State- Dundee, Oregon
Brand- Henderson Trail Vineyards
Type- Pinot Noir
Varietal- Red Wine
Price- $$$
Average Wine Rating- 3
Description:
Henderson Trail Pinot Noir 2018 is produced in Oregon's Willamette Valley. The wine is a medium-bodied wine that is loaded aromatics of black cherries. The palate is rich with blackberry jam and subtle notes of vanilla.
Tobin's Review 3 out of 5
Henderson Trail's Pinot Noir 2018 has a dark plum hue. I pick up aromas and chocolate and blackberries on the nose. It is light on the tongue with tart cherry flavor. I find the wine to be a little acidic, and overall I was a bit disappointed. It's a good wine, but not worth the sticker price.
Have you had this wine? Comment below and share your thoughts on Henderson Trail's Pinot Noir 2018!