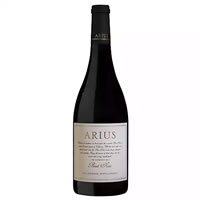 Arius Pinot Noir 2017
Country- USA
State- Graton, CA
Brand- Arius Wine Cellars
Type- Pinot Noir
Varietal- Red Wine
Price- $$$
Average Wine Rating- 4
Description:
Arius Pinot Noir 2017 is a graceful yet complex wine that has nuances of black cherry, cola and currant with a long smooth finish.
Tobin's Review 4 out of 5
This 2017 Pinot Noir has a nice light plum hue. The wine opens with aromas of rich red fruit and black cherry. The wine opens with a little hint of acidity, but it doesn't last long and opens up into a nice light fruity flavor. It's a very light and refreshing wine with lots of light red fruit (cherry and a little hint of strawberry as well.) I enjoyed this wine!
Have you had this wine? Comment below and share your thoughts on this Pinot Noir!