G.H. Mumm Grand Cordon Rosé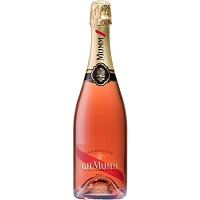 G.H. Mumm Grand Cordon Rosé
Country- France
State- Champagne
Brand- G.H. Mumm
Type- Champagne
Varietal- Pink Wine
Price- $$$$
Average Wine Rating- 4
Description:
G.H. Mumm Grand Cordon Rosé has aromas and flavors of fresh strawberries, cherries and redcurrants with notes of vanilla and caramel that lead to a long savory finish.
About the Winery:
In 1761, Peter Arnold Mumm founded P.A. Mumm in Cologne, Germany. The company owned large vineyards in the Rhine Valley, where they created their wines. Peter's children, Gottlieb, Jacobus and Philipp partnered with G. Heuser and opened Maison Mumm Champagne House in 1827 in Reims, France. In 1852, Georges Hermann Mumm took over the company and it would be known as G.H. Mumm.
Tobin's Review 4 out of 5
G.H. Mumm Grand Cordon Rosé has a nice salmon hue with aromas of red berries and biscuit. The Champagne has flavors of cherry, cranberry and a slate chalk finish. This is a nice Champagne!
Have you had this wine? Comment below and share your thoughts on this Rosé Champagne!