Barone Fini Pinot Grigio 2019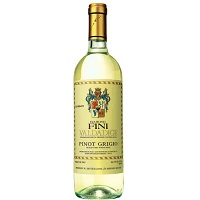 Barone Fini Pinot Grigio 2019
Country- Italy
Brand- Barone Fini
Vintage- 2019
Type- Pinot Grigio
Varietal- White Wine
Price- $$
Average Wine Rating- 3
Description:
Barone Fini Pinot Grigio 2019 has floral and lemon mist aromas with ripe juicy flavors of honeydew and apple. The wine has a bright balanced acidity with warm minerality which creates a lingering crisp finish.
About the Winery
The Bonmartini-Fini family started making wine in 1497 in Northern Italy. Today, the Bonmratini family continues to own and manage Barone Fini Winery in Trentino-Alto Adige. The family produces Pinot Grigio and Merlot wines.
Tobin's Review 3 out of 5
Barone Fini's Pinot Grigio 2019 has a light hay hue with citrus aromas. The wine has pear, dry cantaloupe and stone with nice minerality.
Have you had this wine? Comment below and share your thoughts on Barone Fini's Pinot Grigio 2019!