Edition Maximilian Pinot Noir 2006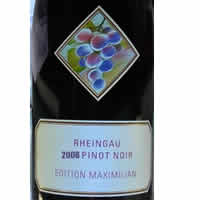 Edition Maximilian Pinot Noir 2006
Country– Germany
Region-  Rheingau
Brand– Edition Maximilian
Vintage- 2006
Type- Pinot Noir
Varietal- Red Wine
Price- $
Average Wine Rating- 

Description:
Edition Maximilian's 2006 Pinot Noir is a medium-dry, full bodied wine with a ruby red color. It is well balanced with oaky flavors, earthy and delicate tones.
Tobin's Review- 2.5 out of 5
Edition Maximilian's 2006 Pinot Noir has a fruity aroma. It is much lighter and fruitier than the US Pinot Noirs. It reminds me of a dessert wine.
Jeanine's Review- 3 out of 5
This is much sweeter and fruitier than I expected. It is very light and might be best served chilled, similar to a white zinfandel.
Have you had this wine? Comment below and share your thoughts on Edition Maximilian Pinot Noir 2006!