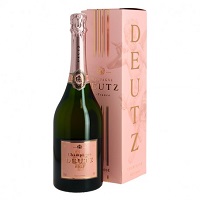 Deutz Rosé
Country- France
State- Champagne
Brand- Champagne Deutz
Type- Champagne
Varietal- Pink Wine
Price- $$$$
Average Wine Rating- 4.5
Description:
Deutz Rosé is a blend of 90% Pinot Noir and 10% Chardonnay grapes. The Champagne has strong pink tinges with aromas of cherry, blackberry, pomegranate and redcurrant. The wine has flavors of strawberries and raspberries that leads to a well-balanced finish.
About the Winery
Champagne Deutz was founded in 1838 by two Germans, William Guillaume Deutz and Peter-Joseph-Hubert Geldermann, in the Aÿ region of Champagne. In 1988 the company was split into a Champagne producer (Champage Deutz) and a sparkling wine producer (Badische Geldermann Privat-Sektkellerei). Champagne Deutz still produces quality Champagnes that are enjoyed worldwide.
Tobin's Review 4.5 out of 5
Deutz Rosé has a rust salmon hue with lively bubbles. The Champagne is clean with slight sweet tart aromas, and a smooth flavor of light cherry. I also picked up a light tartness, which ends dry but with a bit of cream. This is a good well-balanced Champagne with very clean flavors.
Have you had this wine? Comment below and share your thoughts on Deutz Rosé!