Cloudveil Pinot Noir 2017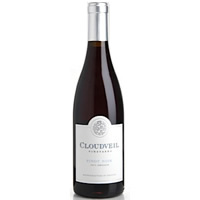 Cloudveil Pinot Noir 2017
Country- USA
State- Dundee, Oregon
Brand- Cloudveil Vineyards
Type- Pinot Noir
Varietal- Red Wine
Price- $$
Average Wine Rating- 4
Description:
Cloudveil Pinot Noir 2017 is produced in Oregon's Willamette Valley and showcases ripe berry flavors with lively acidity.
Tobin's Review 3.5 out of 5
The wine has a plum hue. It has an aroma that is rich with dark fruits with slight acidity. I taste plum on the tongue. The wine has a smooth finish, although I don't taste vanilla which you do with some Pinot Noirs. Overall a good wine, with plum flavoring throughout.
Jeanine's Review 4 out of 5
The wine has a nice fruity aroma. I pick up nuances of plum in the wine. Overall it's a solid wine.
Have you had this wine? Comment below and share your thoughts on Cloudveil Pinot Noir 2017!