Broadley Willamette Valley Pinot Noir 2019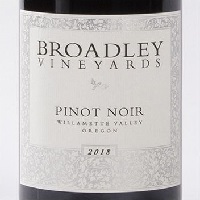 Broadley Willamette Valley Pinot Noir 2019
Country- USA
State- Monroe, OR
Brand- Broadley Vineyards
Type- Pinot Noir
Varietal- Red Wine
Price- $$$
Average Wine Rating- 4
Description:
Broadley Willamette Valley Pinot Noir 2019 is comprised of grapes from the Broadley Estate Vineyards, Mallaris, Button Field, Sunny Mountain and Walnut Ridge Vineyards. The result is a wine that is elegant with flavors of ripe raspberry and cherry.
About the Winery:
Broadley Vineyards is a family owned and operated winery and vineyard located in Monroe, Oregon. Craig and Claudia began planting the estate vineyard in 1981 and the winery was established in 1986. Broadley Vineyards specializes in Pinot Noirs, but they also produce a Chardonnay and Rosé as well.
Tobin's Review 3.5 out of 5
Broadley Willamette Valley Pinot Noir 2019 has a murky rube hue with aromas of jam, cherry and strong alcohol notes. The wine opens softly with flavors of cherry, clove, baking spice, hints of plum and a light stone finish. Overall, it's a nice wine.
Have you had this wine? Comment below and share your thoughts on this Pinot Noir!