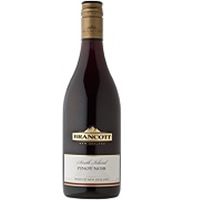 Brancott Pinot Noir 2010
Country- New Zealand
State- Marlborough
Brand- Brancott Estate Vineyard
Vintage – 2010
Type- Pinot Noir
Varietal- Red Wine
Price- $$
Average Wine Rating- 2
Description:
Brancott Pinot Noir 2010 is a deep red colored wine produced in the Marlborough region of New Zealand. This Pinot Noir has flavors of cherry, plum, blackberry fruit, rip cherry and subtle spice.
About the Winery
Brancott Estate Vineyard is located in Marlborough, New Zealand. The winery got its start in 1973 when the first seeds were planted. It wasn't until 1979 when the winery produced its first ever Sauvignon Blanc. While the winery has a strong reputation for its Sauvignon Blanc and Pinot Noir wines, it produced its first Sauvignon Gris in 2009 and followed it up by releasing its organic range.
Tobin's Review 2 out of 5
Brancott Pinot Noir is a very light colored Pinot Noir. The taste is watery, it doesn't have much substance and tastes like a cheap red wine.
Have you had this wine? Comment below and share your thoughts on Brancott Pinot Noir 2010!