Bent Coast Pinot Noir 2017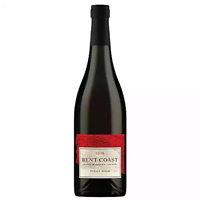 Bent Coast Pinot Noir 2017
Country- USA
State- King City, CA
Brand- Bent Coast
Type- Pinot Noir
Varietal- Red Wine
Price- $$$
Average Wine Rating- 4
Description:
Bent Coast Pinot Noir 2017 is ruby in color with ripe berry and vanilla aromas followed by flavors of cherry, strawberry, blackberries, cola, leather and a hint of spice. The smooth mouthfeel, velvety tannins and long finish add up to a well-balanced and luscious wine.
About the Winery:
Bent Coast is part of Plata Wine Partners is located in Napa, California. The company has been producing fine wines since 2005. They own more than 18,000 acres of company owned vineyards, and they are the largest independent California coastal grape grower. Some of the wines in their portfolio include Bent Coast, Colonel James, SLO Lane and many more.
Tobin's Review 4 out of 5
Bent Coast's Pinot Noir 2017 has a plum hue with rich vibrant fruit aromas, in particular cherry. The wine is very smooth, not too acidic and is loaded with fresh cherry flavors. This is a good Pinot Noir!
Have you had this wine? Comment below and share your thoughts on Bent Coast's Pinot Noir 2017!