The Crusher Petite Syrah 2007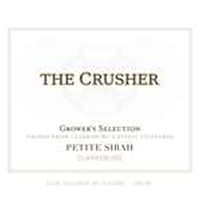 The Crusher Petite Syrah 2007
Country- USA
State- Clarksburg, California
Brand- The Crusher
Vintage- 2007
Type- Petite Syrah
Varietal- Red Wine
Price- $$
Average Wine Rating- 4
Description:
The Crusher's 2007 Petite Syrah is an inky colored wine with aromas of blueberry, cassis and a hint of spearmint. The palate is supple with caramel and French vanilla followed by a ripe cassis finish. The wine has balanced acidity and firm tannins.
Tobin's Review 4.5 out of 5
The Crushers 2007 Petitie Syrah had aromas of crushed red fruit and spice. I could taste hint of blackberry and oak. Overall a very good wine!
Jeanine's Review 3.5 out of 5
I really like The Crushers 2007 Petite Syrah. I could pick out the plum and spice aroma. It had a nice smooth berry finish, and would pair well with a lot of dishes!
Have you had this wine? Comment below and share your thoughts on The Crusher Petite Syrah 2007!