Settecieli Pinot Grigio 2018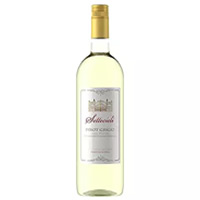 Settecieli Pinot Grigio 2018
Country- Italy
Brand- Settecieli
Vintage- 2018
Type- Pinot Grigio
Varietal- White Wine
Price- $$
Average Wine Rating- 3
Description:
Settecieli Pinot Grigio 2018 is straw yellow with greenish reflections. The wine has a balanced bouquet with notes of apple, peach and hawthorn.
Tobin's Review 3 out of 5
Settecieli's Pinot Grigio 2018 has a light pale hue. The wine opens with aromas of light caramel apple, pear and a slight acidity on the nose. The flavors are citrus, pear, kiwi with a light slight citrus sweetness.
Have you had this wine? Comment below and share your thoughts on Settecieli's Pinot Grigio 2018!