Santa Margherita Pinot Grigio 2017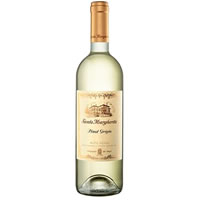 Santa Margherita Pinot Grigio 2017
Country- Italy
Brand- Santa Margherita Winery
Vintage- 2017
Type- Pinot Grigio
Varietal- White Wine
Price- $$
Average Wine Rating- 4
Description:
Santa Margherita Pinot Grigio 2017 has a crisp fragrance with intense yet elegant hints of quince. The wine has fresh fruit flavors with a slight sweetness, and a long finish with a tangy post palate.
About the Winery
In 1930 Count Gaetan Marzotto founded the Santa Marherita Winery in the foothills of the Italian Alps. Santa Margherita now encompasses vineyards across Italy from Veneto to Tuscany. While the winery is most famous for their Pinot Grigios, they also produce Prosecco, Chianti and Sparkling Rosé.
Tobin's Review 4 out of 5
Santa Margherita's Pinot Grigio 2017 has a very light hue with aromas of sweet melon and a little citrus on the nose. The wine is soft on the tongue with melon and a hint of lemon on the end. The wine is a little acidic, but overall it's a very good wine.
Have you had this wine? Comment below and share your thoughts on Santa Margherita's Pinot Grigio 2017!