Sandeman Porto 20 Year-Old Tawny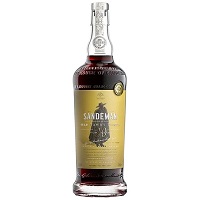 Sandeman Porto 20 Year-Old Tawny
Country- Portugal
Brand- Sandeman
Age-20-years
Type- Port
Price-$$$$
Average Wine Rating- 3.5
Description:
Sandeman Porto 20 Year-Old Tawny has wonderful flavors of dried apricots, honey, nuts, spices and vanilla. The Port is medium-bodied, very sweet and has a delicate and silky texture.
About the Winery:
In 1790, George Sandeman founded The House of Sandeman in London, England where they focused on Port and Sherry wines. The company would remain family owned until 1979 when they were bought out by Seagram. The company is currently owned by Sogrape Vintos, S.A. and headquartered in Villa Nova de Gaia, Portugal.
Tobin's Review- 3.5 out of 5
Sandeman's Porto 20 Year-Old Tawny has a sweet molasses aroma. The Port is smooth and well-balanced with light molasses, medicinal flavors and a nutty finish. Overall it's definitely a nice Port!
Have you had this Port? Comment below and share your thoughts on this Old Tawny!