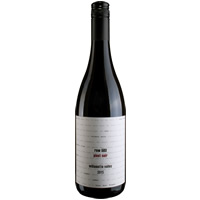 Row 503 Pinot Noir
Country- USA
State- McMinnville, Oregon
Brand- Row 503
Type- Pinot Noir
Varietal- Red Wine
Price- $$$
Average Wine Rating- 4
Description:
Row 503 Pinot Noir is incredibly rich, charming, harmonious and complex. The wine is beautifully balanced and fruit forward with a silky texture and gentle spice of oak.
About the Winery
Row 503 is the new Oregon Pinot Noir brand from Dreyfus, Ashby. 503 is the area code for Northern Oregon, which is home to the select Willamette Valley vineyards that produce Row 503.
Tobin's Review 3.5 out of 5
Row 503's Pinot Noir has a nice fruity cherry aroma. It's very smooth and I pick up cherry on the tongue. It's a very smooth wine with low tannins.
Jeanine's Review 3 out of 5
Row 503's Pinot Noir has a really nice fruity aroma. It's very smooth, light, but just enough flavor and complexity to make it a solid wine. It is not 'watery' and has a nice substance. It's creamy, but I miss the nuances of vanilla that a lot of Pinot Noirs have. Overall this is a great wine!
Have you had this wine? Comment below and share your thoughts on Row 503 Pinot Noir!