Rodney Strong Rosé of Pinot Noir 2018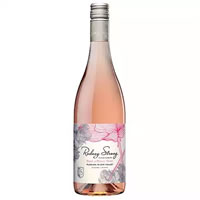 Rodney Strong Rosé of Pinot Noir 2018
Country- USA
State- Healdsburg, California
Brand- Rodney Strong Vineyards
Vintage- 2018
Type- Rosé
Varietal- Pink Wine
Price- $$
Average Wine Rating- 3
Description:
Rodney Strong Rosé of Pinot Noir 2018 is beautifully colored with fresh vibrant aromas and flavors of strawberry, white peach and jasmine. The wine is brilliant and bright with fresh acidity and a wonderful long lasting juicy finish.
About the Winery
In 1959, Rodney Strong and his wife retired from dance and purchased a century-old boarding house where they began to make their first wines. Rod began purchasing bulk wine and blending and bottling it while his wife operated the tasting room. In 1962 Rod purchased a winery and vineyard in Windsor, which was located in Sonoma County) and began to learn the craft. Six years later Rod would purchase land in Russian River Valley where he would plant Pinot Noir. In 1979 Rod took a step back and hired Rick Sayre to become the company's winemaker.
The Klein family came along in 1989 and purchased Rodney Strong Vineyards. 2009 was a year of milestones for the winery, as it was Rick Sayre's 30-year anniversary as well as the Klein's 20-year anniversary as owners.
The winery currently farms 14 estate vineyards and sources grapes from vineyards throughout Sonoma County!
Tobin's Review 3 out of 5
Rodney Strong Rosé of Pinot Noir 2018 has a light caramel pinkish hue (almost like an amber/ pink complexion.) I pickup fresh fruit on the nose with a hint of strawberry and a slight acidic aroma. The wine is soft on the tongue with a citrus lemon flavor. The wine is good, as it's light and crisp. It reminds me of a mix between between a Zinfandel and a French Rosé.
Have you had this wine? Comment below and share your thoughts on Rodney Strong's Rosé of Pinot Noir 2018!