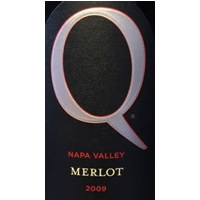 Q Merlot 2009
Country- USA
State- Graton, California
Brand- Q Vineyards
Vintage- 2009
Type- Merlot
Varietal- Red Wine
Price- $$
Average Wine Rating- 3
Description:
Q Merlot 2009 has deep raspberry and blueberry aromas with flavors of ripe cherry and black fruits. This Merlot is abundant with rich flavors and wonderful soft tannins.
Tobin's Review 2.5 out of 5
Q's Merlot 2009 has a jammy aroma. It is a heavier Merlot with a soft oak finish. I pickup flavors of anise and licorice. It's an interesting Merlot which is definitely more complex.
Jeanine's Review 3 out of 5
Q's Merlot 2009 doesn't have much of an aroma. It is a smooth Merlot with flavors of cherry and a subtle oak finish. My palate is a bit off, so I am sure I could have picked-up more, but this is all I have for now.
Have you had this wine? Comment below and share your thoughts on Q Merlot 2009!