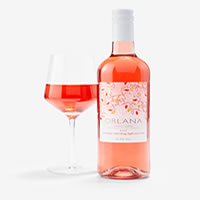 Orlana Vinho Verde Rosé
Country- Portugal
Brand- Orlana
Type- Rosé
Varietal- Pink Wine
Price- $
Average Wine Rating- 3
Description:
Orlana Vinho Verde Rosé is a fruity, refreshing and light rosé wine. The wine has berry aromas with a crisp citrus flavor and a small fizz as well.
Tobin's Review 3 out of 5
This rosé has a raspberry hue that is very rosey red. I pick up very faint scents of light strawberry and raspberry. The wine is light on the palate with flavors of tart cherry, strawberry and raspberry. It's good, but nothing great.
Have you had this wine? Comment below and share your thoughts on Orlana Vinho Verde Rosé!